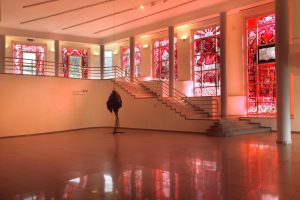 Assi Meshullam's Vitraji Vulgarum is a site-specific work presented at the Genia Schreiber University Art Gallery in Tel Aviv as part of the exhibition The Left Hand (2012), curated by Menachem Goldenberg and Galili Shachar. The work consists of red and black glass-paints on large transparency sheets that were glued onto the glass windows of the gallery. Located between the university and the street, the gallery functions as a sort of suggestive portal between them; and the painted glass windows traced the complex, playful, and ominous narrative of the nachash hakadmoni, or the primordial serpent — not as he is banished to crawl on his belly, as the familiar story goes, but as he regains his stature, his limbs, and his wings in an ascent from the underworld.
This underworld is no abstract, mythological location. Ongoing political violence permeates the work. The first window's watchful sun-eye with its light bulb pupil, a technological illumination of destruction and devastation, alludes directly to Picasso's infamous anti-war masterpiece Guernica, composed in 1937 in response to the fascist aerial bombing of Basque Country by Nazi Germany and Fascist Italy. Meshullam painted his windows in 2012 as Israel conducted air strikes on Gaza and Hamas launched rockets toward Tel Aviv. The second window situates a doubled Lion of Judah image, taken from the contemporary Israeli municipal symbol for the city of Jerusalem, in a barren landscape of burnt trees. Classical Jewish texts speak of two Jerusalems — a (heavenly) Jerusalem above and an (earthly) Jerusalem below — but Meshullam introduces us to a third: an underworld Jerusalem from which the serpent must be retrieved. 
The university campus toward which the site-specific work leads, and toward which the ouroboric serpent ascends, is framed by the artist's rendering of a thorny and barren tree of knowledge. The ascent does not quite index, therefore, a utopian arrival at pure knowledge, an escape from the hellish underworld to paradise. The serpent's ascent opens rather to a deeply implicated and ambivalent site of knowledge production, whose fruits and leaves have not quite yet emerged.