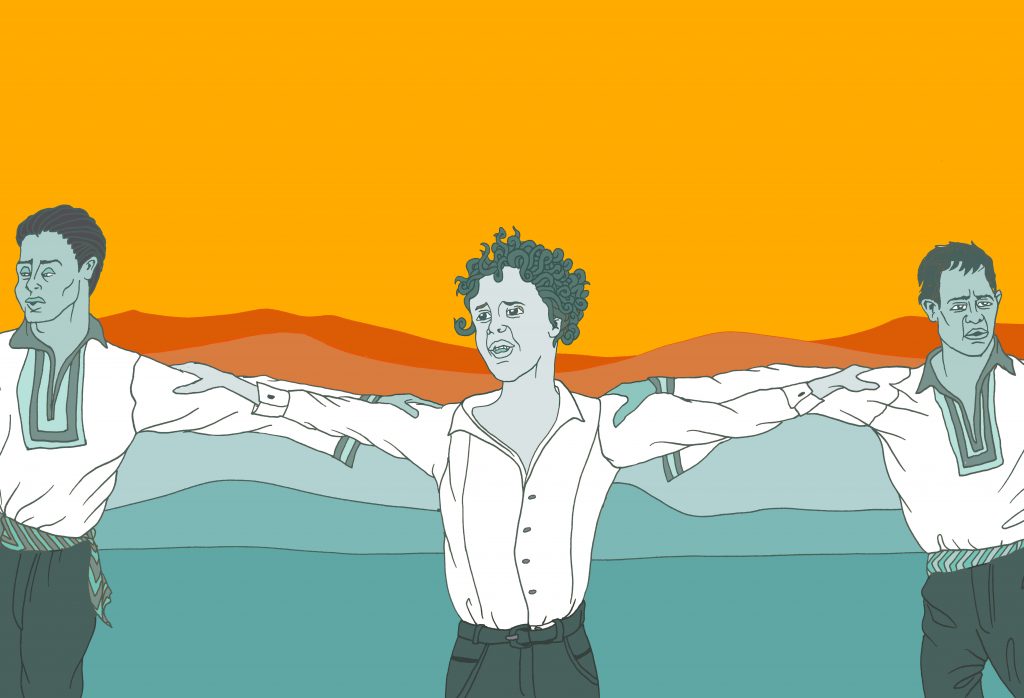 For eleven years I spent every summer at a Jewish camp in Simi Valley. Traditionally, American summer camps had picturesque rivers and forested vistas, but Camp Alonim was in the middle of a desert with dusty hills and fields of dry weeds. Its only claim to fame was being used as the set for Marilyn Manson's dystopian music video for "The Dope Show." Two years ago, there was even speculation that Alonim might actually be a nuclear waste site. But besides dust and alleged nuclear waste, my camp's unique charm laid in its decades-old traditions: Israeli dancing, Jewish folk songs, gardening classes taught by Israelis. My reason for returning to camp every year, however, was to indulge in an alter ego. On the first day of camp, I would march into my bunk, grab the laminated name tag reading "Daniel" from my bed and throw it on the ground. My counselors would walk over and ask if everything was okay.
I would reply with a smile, "I am Disco now."
I was one of many camp celebrities. Children with varying levels of social skills and idiosyncrasies used camp as a space to reinvent themselves. For me, the Disco persona was an act of defiance. Before every lunch and dinner, the entire camp would gather on a cement pavilion and perform choreographed dance routines to blaring Israeli house music.
During my first summer at camp, I was too stubborn and shy to try to participate in Israeli dance. The thought of holding hands with lanky teenagers to join a circle dance was horrifying. I was significantly shorter than all my bunkmates. I preferred to sit in the sidelines, watching all my bunkmates learn the dozens of routines.
But during the last Saturday lunch dance session of that first year at camp, I had an out of body experience. I spontaneously threw myself into the middle of a circle dance and did my best John Travolta impression. I humped the air, waved my arms, and soaked up all the attention as a crowd of older campers, counselors, and dance instructors began cheering me on. By the time the Hebrew electro pop song was over and everyone was called into the dining hall for lunch, I was reborn. A dance instructor shouted into a microphone, "Round of applause for Disco! Eize Yofee!"
DISCO!!!!!
I had become the antithesis of Israeli dance.
—
I can't help but feel a sense of regret for my diva antics at Alonim. While I was begging for the limelight, many of my campmates seemed to be actually enjoying learning the hundreds of dance routines. Coming into adulthood, I have curated a Jewish identity for myself that favors salty food and even saltier humor over synagogue services, Hebrew, and Zionism. When it comes to Israeli dancing, however, I don't have a clear sense as to why I had so wholeheartedly rejected it in my formative years. It would be presumptuous to assume that Alonim's obsession with Israeli dancing was part of some broad, political agenda. In dance sessions all across the Jewish diaspora, people bond over their shared love for this tradition. Similar to Larry David, Yiddish idioms, delis, and Boca Raton, this export from thousands of miles away has become a facet of cultural Judaism. But how and why did this happen? By tracing the dance's history, I tried to gain a better understanding as to why thousands of Jews gleefully participate in this tradition that I had dismissed and how it fits into contemporary diaspora communities.
Coming into adulthood, I have curated a Jewish identity for myself that favors salty food and even saltier humor over synagogue services, Hebrew, and Zionism.
Decades before I air-humped to Hebrew House music, Israeli folk dance played an instrumental role in shaping Zionist identity in Israel and abroad. The dancing was popularized in the kibbutzim, agricultural communes that laid the foundation for a larger Jewish settler migration to Palestine. When they came to Palestine, Jewish settlers, referred to as Halutzim in Hebrew, were generally poor and lacked the funds to start a business or private farm. Though within Zionist retellings of history they are idealized as egalitarian communes, kibbutzim had a record of excluding Muslim Arabs and non-white Jews.
Today, as Israel has become more right-wing and nationalist, the kibbutz is mostly irrelevant. A few kibbutzim are still operating, while the rest have either shut down, transitioned into commercial farming, or have been turned into museums commemorating Israel's early history. But the folk traditions that sprung out of kibbutzim continue to be popular around the globe.
Before the founding of Israel in 1948, folk dances were spread by Zionist youth groups who brought it to kibbutzim, Palestinian cities, and the United States. The first dances were mostly done in circles with simple steps, underscoring this sense of pragmatic communalism. One of the most famous dances, Mayim Mayim, epitomizes the mythologizing ethos of early Israeli settler culture. The dance was first choreographed in 1936 in Kibbutz Degania, the first communal settlement in Israel. Mayim Mayim,  meaning "water water" in Hebrew, is about Jewish settlers discovering water in the middle of the desert. An instructional pamphlet published by the Tel Aviv Zionist Organization Youth Department in 1946 explains how "this dynamic dance" will make Jews  "feel the eternal rhythm of the waves, the movement of water drawn from the well and, above all, the supreme joy in finding water that revives the desert." Along with the literal discovery of water in the desert, "Mayim Mayim" gestures towards another essential value of early Israeli culture: self-sufficiency of the Jewish people.
In between teaching dances, instructors often tell anecdotes about a routine's origins in a kibbutz or Israeli town. For the older dances, like "Mayim Mayim," the kibbutz serves as a fantastical setting in which Jewish history, values, and culture thrived. To get a lived sense of whether kibbutzim were as idealistic as my American dance instructors had suggested, I spoke with two women who grew up in one. Ephrat and Dana were raised in Kibbutz Urim in the 1960s and 1970s, where they would folk-dance during weekly gatherings in their communal dining room. Ephrat said dancing was an expansion of her daily life on the kibbutz, where they were otherwise taught to grow their own crops and raise their own cattle. They also, in the words of Ephrat, had to "make our own culture." Ephrat and Dana's kibbutz would throw agricultural festivals where kibbutz members would dress up, and the men would perform folk dances to celebrate the harvest.
But underlying these colorful festivities was a persistence of dogma. Ephrat recalled how Zionist youth group representatives would often kick out members if they were caught listening or dancing to "salon music"—the pejorative for Western pop music—that was associated with what Ephrat referred to as "elite and bourgeois" behavior that valued individualism, rendering it the antithesis of Zionist socialist community values.
This attitude extended to performances in Kibbutz Urim as well. It was rare to see an individual perform a dance separate from the collective. Becoming a part of a single like-minded community was imperative. Like many kibbutzniks, Ephrat and Dana sang and danced to Western pop songs anyway as a way to connect themselves with the wider world. While Western dances were associated with adolescent fun like flirting and partying, Dana said that folk-dances came from a "very important place," carrying a ceremonial significance.  Ephrat still lives in Kibbutz Urim and Dana now lives in Venice, California. Though Dana feels conflicted about the nationalist ideologies attached to Israeli traditions, Ephrat spoke extensively about the "togetherness" she still feels while dancing.
Ephrat recalled how Zionist youth group representatives would often kick out members if they were caught listening or dancing to "salon music"—the pejorative for Western pop music—that was associated with what Ephrat referred to as "elite and bourgeois" behavior that valued individualism, rendering it the antithesis of Zionist socialist community values.
In Bringing Zion Home: Israel In American Culture, 1948-1967, the historian Emily Alice Katz argues that in the postwar period, Zionism and Israeli cultural practices gave American Jews an opportunity to move on from the trauma of the Holocaust. It was within this context of renewal and reconstruction that Israeli folk-dancing became popular in the United States.
Dani Dassa is considered to be one of the founding fathers of contemporary Israeli dancing in the U.S. He's the patriarch of the Dassa family, a multi-generation dance dynasty that credits themselves for turning the tradition from just Israeli propaganda into a communal activity for contemporary American Jews. Now 87, Dani still has the charisma of a maestro. I spoke with him in his home in Cheviot Hills, California and by the time our conversation was done, his dining table was cluttered with dusty documents — pamphlets, newspaper clippings, letters from mayors and ambassadors, and a seemingly infinite stack of black-and-white photos of dance classes. "I used to wear very small shorts," he lamented over a picture of a twenty-something him leading a class in the middle of a kibbutz field.
Dani was born in 1929 in the Old City of Jerusalem to Greek settlers.  He joined a Zionist youth group in the early 1940s and after fighting in the Israeli War of Independence, he was hired as a dance and P.E teacher at an elite boarding school in Herzliya. In 1956, he moved to New York City on a scholarship to learn modern dance with Martha Graham.
While there he attended a Wednesday night Israeli dance session at the 92nd Street Y, hosted by the Austrian dancer Fred Berk. He soon became a fixture of the Israeli dance scene and helped bring the dance to Jewish summer camps in upstate New York, "I became well-known because it was the first time an actual Israeli was telling Americans about the traditions, customs, and stories behind the dance routines," He recalled. A few years later he moved to the Brandeis Institute in Simi Valley to work as the first dance instructor at Camp Alonim. After he retired, his son David Dassa took over as instructor at Alonim. Today, while most Jewish summer camps teach five or six dances, my camp, Alonim, has over 250 dances in its repertoire.
Over the years, Israeli dance's purpose in American Jewish communities has transformed from a celebration of Israel to primarily becoming an outlet for Jews to meet other Jews, dance an intimate salsa-inspired "Israeli" dance, and, hopefully, eventually marry. But more recently, influenced by the rise of post-Zionist discourse, a younger generation of Jewish Americans have come to question the tradition entirely. Erica Goldman, a former Alonim instructor who is now a Jewish educator in New York City, says that she sees a notable generational shift within her classes. Students are discussing whether moves and steps deriving from Yemen and Spain are appropriation rather than an expression of Israel's hybridized culture. Some students are asking if they should even do Israeli dance at all because it's linked to the violence and injustice of the occupation.
But others are starting to find ways to reconcile their progressive views with the inherently nationalist tradition. Rebecca, a theater student who has gone to Goldman's dance sessions, told me that even though she doesn't consider herself a Zionist, dance sessions were the only times she socialized in a "Jewish context." When she attended a dance night in Budapest, Hungary — a place that has experienced an uptick of antisemitism — she became "more sympathetic" to Zionists because she saw how the tradition could make people feel "comfortable being openly Jewish."
Even if it can be treated as a separate entity to Zionism, Israeli folk dancing still celebrates a myth that we like to tell ourselves about the founding of Israel. In his ethnography of Kibbutz Goshen, anthropologist A.M Bowes questions why kibbutzim have become the promotional face of Israel when in actuality, "the kibbutz movement had never contained more than eight percent of the Israeli Jewish population." The imagery, stories, and traditions coming from kibbutzim have a strong romantic allure — masking violence with utopia. While Israeli dance provides space for us to relish in an idea of exceptional communalism and homegrown culture it neglects some uncomfortable truths like the displacement and continuous occupation of Palestinians.
By talking to people who love Israeli dancing, I noticed that they were drawn to how it presents culture as constantly evolving and yet always harkening back to a canonical past. In the middle of our conversation, Dani Dassa pointed to an annotated bible sitting in front of him and proclaimed, "It all comes from here!" When describing the evolution of the dance, David Dassa, his son, said that it was within the tradition's nature for dances to change as they spread from city to city. Ephrat acknowledged that although she didn't like them, contemporary takes on Israeli dances to "Britney Spears songs and techno" were necessary for the tradition to survive. Whether it's to "Mayim Mayim" or "Baby One More Time," Israeli dance makes finding one's place in Jewish cultural history a distinctly physical act.
As Disco, I was doing my own version of that, remixing a tradition to find my own space.  During my first summer at camp, I was significantly smaller than all of my campmates. These fleeting moments in which an entire circle dance was staring at me were an opportune time to move up my camp's social pecking order.  Perhaps as Disco—what I thought was the ultimate rejection of it all—I was engaging with the tradition's endless self-mythologizing and reinvention.
The one dance routine I remember actually participating in was "The Chain Dance" — a dance that was unique to Alonim. Dani Dassa invented it for a Bar Mitzvah party in 1960 to encourage "everyone, really everyone" to dance. The "Chain Dance" was simple and straightforward. You lock hands with the person next to you, waited for a mid-tempo instrumental Hasidic song to start playing, and then walked around in a circle, trying your best not to trip. At Alonim, the entire camp wears white from Friday night to Saturday night for Shabbat. After Shabbat dinners, the camp would gather in the dance pavilion for a session. Following a few dances, the instructor would call all of us onto the pavilion and tell us to join hands for the "Chain Dance."
Three summers after becoming Disco, I came back to Alonim with blossoming peach fuzz. Throughout my first week at camp, when I disrupted circle dances with improvised moves, I learned that rather than being cute, the Disco persona was now just blatantly attention-seeking.  On the first Shabbat of that summer, Disco decided to try the "Chain Dance." I held hands with a tall teenager and a shorter camper who was maybe seven-years old. David Dassa gave a brief speech and then put on the song. We began walking in a chain. Our steps kicked up waves of dust, ruining our white outfits and wreaking havoc on the silent majority with asthma. The song didn't have a word of Hebrew — just a violin, accordion, and drums playing over our laughter and coughs.