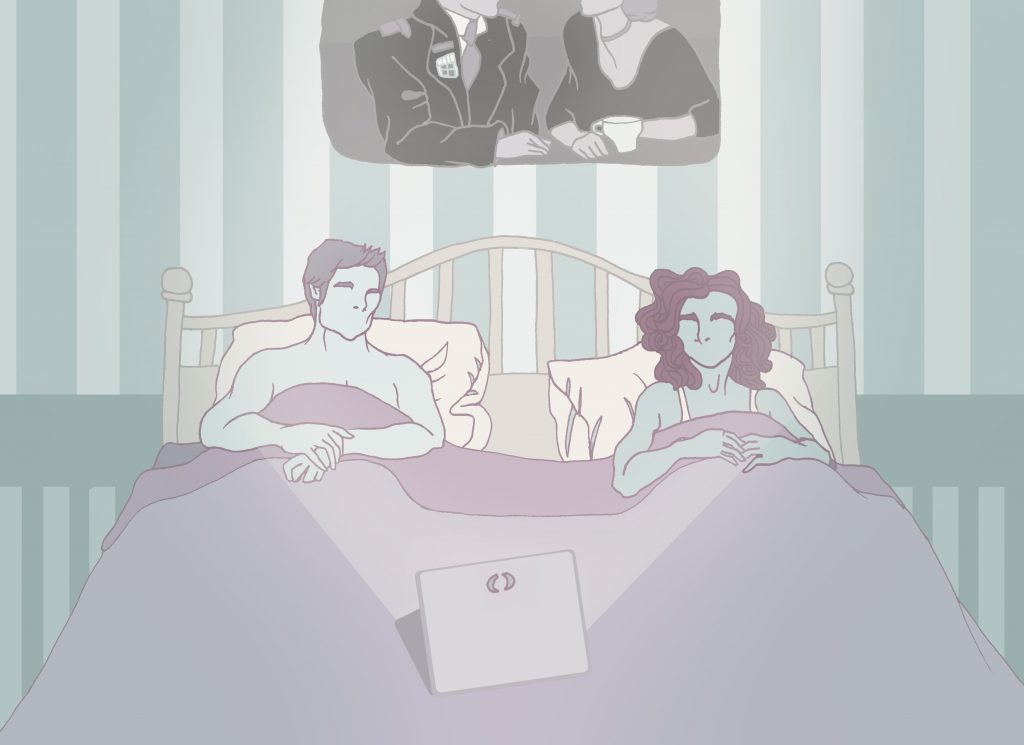 THE CHARACTERS
LEORA, a Jewy Jew. Olive skin. Big, curly hair. (Casting note: The part of Leora should be played by a person with two Jewish parents.)
SAM, white, but not blonde. Otherwise nondescript.
Sam and Leora lay in bed in their underwear in dim light, a laptop on a pillow between them. Above their heads, a projection of scenes from the movie they're watching. A Gentleman's Agreement, 1947, black and white. Gregory Peck, as journalist Bill Greene, looking in the mirror at his "dark features," deciding to pretend to be Jewish while he writes an expose on antisemitism: "Well all I've got to do is say it. Nobody knows me around here. I can just say it!"
Flashes from the antisemitism scenes: His fiancé getting skittish about introducing him to her society friends. His blonde secretary admitting she only got called in for the job after changing the name on her resumé. A concierge refusing Bill a room at a fancy hotel. Bill's kid coming home bloodied, asking what a kike is.
His secretary is nervous about hiring other Jewish women to her position: "It's no fun being the fall guy for the kikey ones." The montage ends with his rebuke of her, after he reveals his secret: "What's so upsetting about that Ms. Wales? You mean there is some difference between Jews and Christians? Look at me, look at me hard. I'm the same man as I was yesterday…Same face, same eyes, same nose, same suit, same everything. Here take my hand, feel it! Same flesh as yours, isn't it? No different today than it was yesterday Ms. Wales. The only thing that's different is the word 'Christian.'"
The projection lightens as the credits roll. Sam closes the laptop and puts it on a nightstand.
LEORA
If I was her, I would have told him to go fuck himself.
Sam smiles, but doesn't bite. He busies himself getting ready for bed.
LEORA
You know, I never heard of this movie before. It's obviously not for Jews…It's brilliant, actually. Get goyim to care about antisemitism by making a movie where it's happening to them…"No difference." For fuck's sake.
SAM
Why, is there? If they prick you, do you not bleed?
He gets into bed with her. They should change positions often through the course of the conversation, without leaving the bed. They should not touch. These conversations, which occur periodically and without warning, make them feel alien to one another.
LEORA
Maybe I'll just say I'm a WASP.
SAM
Come on.
LEORA
Why not, Shylock? You're the one who thinks it's all superficial.
SAM
Well maybe WASP is the more rarified culture in this case…
Leora scoffs.
SAM
If you said you were Catholic, maybe.
LEORA
I didn't say Catholic, I said WASP.
SAM
Yeah? What church did you go to, Leora?

LEORA
Church of the Holy Cross in North Miami Beach. Is that a Protestant name for a church?

SAM
You wouldn't say that. You would say, my parents were raised Protestant, but I'm nothing.
LEORA
(mock indignation)
Nothing? My ancestors came over on the Mayflower! You think that's nothing?
SAM
(with an exaggerated face of disbelief)
You're basically North African.
LEORA
Partly.

SAM
And your skin, and your hair. You're off-white.

LEORA
You mean I look Jewish?

SAM
You could be Greek or Italian.

LEORA
Just admit it, I look Jewish.
SAM
You do, but—
LEORA
(teasing)
But how could that be?!
SAM
You happen to look quintessentially Jewish, but that's just you.
LEORA
It's not just me or else it wouldn't be quintessential. What did you say at that Jewish immigration protest we went to? You couldn't find me in the crowd.
SAM
Usually it's easier. But the other half of the crowd just looked like garden variety white people.
LEORA
Not to me. I can spot them immediately. Before they even open their mouths.
SAM
And how would you do that, exactly?
LEORA
It could be any number of things.
SAM
Name one.
LEORA
I know a Jew face when I see one.
SAM
Yeah? Even the black ones?
LEORA
Don't bait me.
SAM
I'm not.
LEORA
It's not just looks. I can sense them.
SAM
You didn't "sense" me.
LEORA
For the same reason I don't often sense Black Jews.
SAM
And what's that?
LEORA
You're half something else.
SAM
Ethiopians aren't half something else.
LEORA
You're trying to derail my argument.
SAM
You haven't made any argument! Except, "trust me, I have Jewdar. But only for the pure breeds."
LEORA
That there are other experiences doesn't discount a dominant one. The point is, you're telling someone who reads as Jewish most of the time, who's not passing as anything else, that there's nothing to it.
SAM
Don't overstate it. If you told someone you were a WASP, chances are they'd shrug and move on with their lives.
LEORA
That's ridiculous. People care. They want to know.
SAM
They don't really.
LEORA
You only say that 'cause no one ever asks you. I get it all the time, right away. What are you? Where are you from? They want to box you in.
SAM
You want to box you in.
LEORA
When I lived in the South –
Sam may sigh or roll his eyes. This is her go-to for signaling "experience with real America."
LEORA
I was almost universally hated.
SAM
You never mentioned antisemitism there.
LEORA
It wasn't direct. It wasn't because I was Jewish, but because I acted Jewish. I wonder if they even knew they were reacting to Jewishness, against Jewishness. They just knew they hated me.
SAM
You know it's possible to dislike you without being antisemitic.
LEORA
No, they didn't dislike. They hated. After I left my boss wrote me a "recommendation" in a sealed envelope—which I opened, thank God—talking about how I tear apart organizations from the inside. I mean, you would've thought I was fomenting revolution! It killed them. That I was challenging, direct—
SAM
Loud. Basically that you're loud. Is that it?
LEORA
That's a simplification, but sure.
SAM
Your brother's quiet.
From now on, every time they mention someone new, a photo of that person is projected where the film was, above the bed. Maybe you hear the click of a slide projector between photos. The photos can play with stereotypes, or they can be devoid of cultural signifiers, or somewhere in between—the subjects can "look Jewish" or not, "seem Jewish" or not, depending on who they're talking about, and whose side of the argument the director is sympathetic to.
LEORA
Not when it counts. He has a history of mouthing off to authority figures.
SAM
Your sister is loud.
LEORA
Yeah, she's doing this classic sexually-liberated Jewess thing.
SAM
Your Dad could just be any kind of working-class white-ethnic from Brooklyn.
LEORA
Well he worked hard enough at hiding. Holocaust trauma.
SAM
Although he does have that nose. Sort of shmeary.
LEORA
Where did you get that word? It's like your own personal Jewish slur.
SAM
John Stewart. What about Linda?
LEORA
You skipped my mother.
SAM
Do we have to?
LEORA
What?
SAM
It's offensive just listing her qualities.
LEORA
You mean the nose job and the designer bags and the moving tables twice every time we go to a restaurant? And the born-in-Florida New York accent, walking into our apartment like
(puckered face)
"Well if you want to live this way…"
Sam shrugs, a concession.
SAM
What about Linda?
LEORA
Linda feels Jewish to me. So tortured.
SAM
She doesn't look Jewish.
LEORA
Well she has a Chinese mother.
SAM
Anya could just be Russian.
LEORA
The Soviets are funny. Sasha feels more Jewish.
SAM
Why? Because he's annoying?
LEORA
Well yeah.
SAM
And James?
LEORA
(sighs)
I don't know, James's family's been in America for generations. But he'll tell you right away. The last thing he wants is to be mistaken for a blueblood. Anyway, do we have to go through all my friends?
Slideshow fades.
LEORA
I don't think what I'm saying is so far out. Jews have things in common. One could potentially make statements about what those things are.
SAM
But listen to you—Soviets don't feel Jewish, Asians don't look it, even early emigrants from Europe are too far from the source.
LEORA
(simultaneously, under her breath)
That's not what I'm saying…
SAM
You basically disqualify everyone we know—
LEORA
I'm not disqualifying anyone! I just said Linda feels Jewish.
SAM
– except for a few Jews you grew up with in a single Miami shtetl. This is what I was saying before: how many exceptions do you make before the "dominant experience" you're referring to only applies to a few people?
Beat. She waits until he's "done."
LEORA
Did you read that study that came out about Jewish conversational style, about how we talk fast and change the subject and interrupt?
SAM
No.
LEORA
Well, it exists. And if you're that linguist doing that research, you're trying to set some parameters, right? You're trying to isolate the variables, to see what's actually Jewish as opposed to something else. You might want to note whether someone was raised with another, competing culture in the home, or what part of the country they're from. That's all I'm doing, trying to isolate the variables.
SAM
I don't interrupt.
LEORA
Would you show up for a study asking for Jewish participants?
SAM
Probably not…But this parsing you do. These purity tests. Who are you to determine the correct expression of Jewish culture?
LEORA
I'm someone who gives a shit, that's who. I'm someone who has invested in Jewish life. Who feels that we're a family—
SAM
What does that mean, a family? What did German Jews have in common with Iranian ones? What do you have in common with Hasids?
LEORA
A shared history, a shared book, an experience of being othered. And the genetic stuff, the diseases, the encoded trauma, the look. Not everyone, but a large enough sample.
SAM
These elements play out in a million different ways. You act like you're some Jewish prototype, but most of the Jews I meet are like me.
LEORA
Like you how?
SAM
You know, different from each other. Swayed by different forces. Unrecognizable.
LEORA
Fine, so I'm the last Mohican, is that it? You always do this. You always tell me that the very distinct culture I grew up in doesn't exist, that I'm the only one. It's a form of gaslighting, you know.
SAM
I just think you have more in common with me than you do with your cousins, and they share your DNA.
The cousins appear on the slideshow. They are JAPs: ironed hair, neutral-toned manicures. They are married to square, professional Jewish men [e.g. golf course engagement photos]. They could almost be WASPs, but they aren't.
LEORA
Well they happened to grow up in Long Island. Long Island has its own Jewish culture.
SAM
So you identify with them more than me?
LEORA
In some ways yes, in some ways no.
SAM
You hate their guts.
LEORA
Because I recognize them. Because they're a part of me. I don't get to hate other people this much.
SAM
It just seems artificial. To insist on this kinship…
LEORA
Why do you think cultures can't be defined? Or is it just Jewish culture that's unreal to you? Because even cities have loose cultures. Like people always say to me, "you don't seem like you're from Miami," and they're not wrong.
SAM
Where do they think you're from?
LEORA
New York. My whole life, even when I was a kid. Which, of course, is just another way of saying "Jew."
SAM
It's the idea of intrinsic difference I reject. I don't see the point of the exercise.
LEORA
What's the point of anthropology, then? Of biology? Of genetics? What's the point of the pursuit of truth!?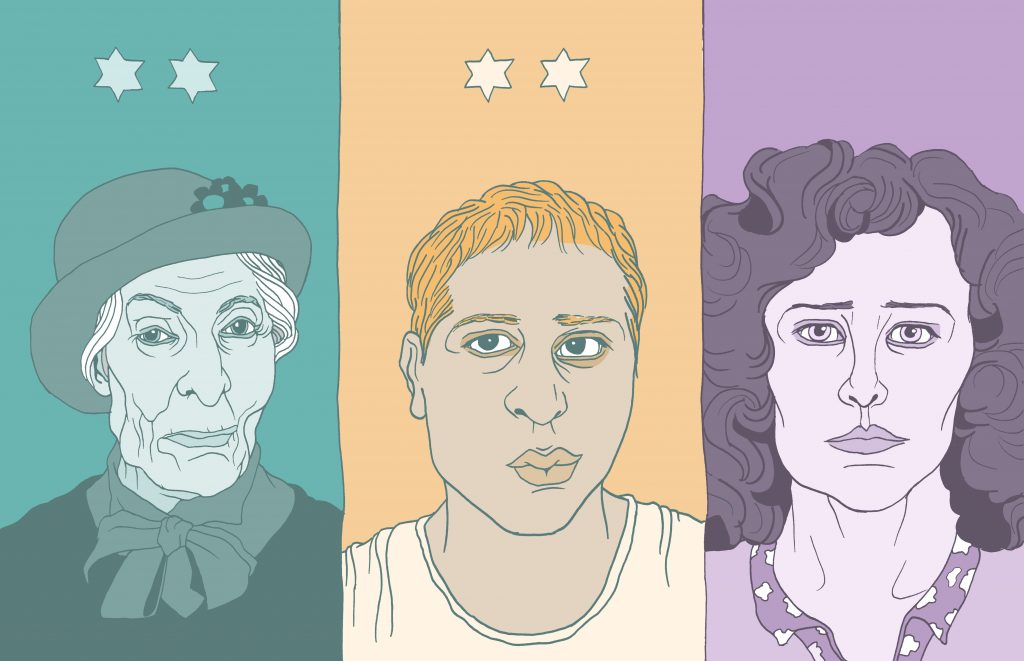 SAM
Ok fine, baby, we can have this conversation, we just can't talk about Jews. Put it in the context of another people and we can talk about it.

LEORA
I don't know anything about another people.

SAM
Not surprising.

LEORA
I click on the headline with Jew in the title.

SAM
That's the difference between you and me. And the thing you have in common with antisemites.
LEORA
Today I noticed on Twitter that both The Daily Stormer and The Jewish Daily Forward were tracing the Russia scandal back to the Jews.
SAM
You see where this kind of thinking gets you? Jews are not some immutable light beam through the ages. It's just a culture, and culture is fluid.
LEORA
It's because you have no culture that you think it's superficial—
SAM
You said superficial, I didn't. I said fluid.
LEORA
(overlapping)
Because you're from the Bay, where Jews go to die.
SAM
Says the girl from Miami.
LEORA
I meant spiritually.
SAM
I just think it's hard to say with certainty what's essential.
LEORA
You're afraid of making generalizations. I'm less afraid.
SAM
Ok, make one.
LEORA
Jews—
SAM
(hands over ears)
Use the example of another people!
LEORA
I can't!
SAM
Well then I can't.
LEORA
(thinks)
Asians like to take pictures of their food.
SAM
What?
Slideshow of several photos of Asian women in restaurants taking photos of their meals. The photos are absurd, staged, over-the-top, intended to mock Leora.
LEORA
Whenever I'm at a trendy restaurant, I see Asian women mostly, taking pictures of their food.
SAM
Everyone takes pictures of their food.
LEORA
It's disproportionate.
SAM
Have you heard this somewhere or you're making this up?
LEORA
I've observed.
Beat. Slideshow fades.
SAM
How did that feel?
LEORA
Not great.
SAM
You know, in Williamsburg everyone's always talking about how Hasids are bad drivers. Really it's just that when you almost get run over by someone else, you can't tell what they are.
LEORA
That's true.
(Beat.)
LEORA
And I've almost been killed by a lot of Hasids in minivans. Would it be so terrible to consider that they're bad drivers, to explore the factors that make them bad drivers?
SAM
Come to think of it, why not get a government task force together?
LEORA
You're right, that's bad. But why can't I think about it?
SAM
This is America. No one will curtail your right to be racist.
LEORA
I'm just saying, if there's truth there, where does it get us to deny?
SAM
You're on dangerous ground. Muslims and terrorism. Black people and criminality.
LEORA
Jews and money, I get it. Look, I can't speak to the other contexts. I can only speak about Jews, but actually I think there's something there.
SAM
(disgusted)
Something where?
LEORA
With the money thing. You know, JAP culture, Hasidic landlords, financial crime—
SAM
Plenty of those criminals are regular white dudes.
LEORA
And plenty of them are Jewish, disproportionate to our numbers.
SAM
It's just Madoff. But boy, did he go big.
LEORA
It's not just Madoff. Rothstein, a lot of these guys.
SAM
I don't believe it.
LEORA
I do, especially in the Boomer generation. The immigrant striver thing, the Holocaust trauma—
SAM
The stereotype precedes the Holocaust.
LEORA
But it doesn't precede the persecution. For a while there in Europe we were only allowed to be money lenders; we couldn't own land or anything. So the dynamics are the same. Money becomes a means of protection, a measure of acceptance. And since it's ultimately a trauma response, it's no surprise that it occasionally becomes pathological. Why not confront that? Why not be honest about it?
SAM
Why not pass a law that makes it illegal for Jews to lend money?
LEORA
Oh shut up.
SAM
You see? What's the upside? I only see potential for harm.
LEORA
You would have hated this antisemitism seminar I went to. This woman had a literal laundry list of behaviors and apparently every one of them was the result of internalized antisemitism. It began to feel like a horoscope, where you don't know if it's just vague enough to be true, where you're inclined not to hear what doesn't resonate. But by the end, I have to say, some of it was convincing. Did you know that Jews put babies with Down's syndrome up for adoption more than any other group of people?
SAM
Is that true?
LEORA
That's what she said. You know, it's like, we have to be useful, or they'll kill us.
They sit with that a moment.
SAM
I just think most of this stuff starts at birth and can be undone in a generation.

LEORA
Not as easily as you think.

SAM
It was in my family.
LEORA
What about epigenetics?

SAM
A lot of people have trauma. My people, the Irish side, had famines. That's where a lot of the research about epigenetics comes from.

LEORA
Seriously? One measly famine? Just look at my family history—the Inquisition, the fucking Holocaust. To say nothing of all the shit before that, the destruction of the t—
SAM
Ok baby, you win. You have the most chips.

LEORA
I'm not trying to get chips! I'm just saying that a repeated experience over thousands of years likely produces a distinct genetic response.

SAM
Maybe, maybe not. We don't know. I think the more powerful element is the narrative. If you'd been adopted by different people…
LEORA
You can't see how your behavior aligns with the narrative because you have no information about the community.
SAM
And you have too much and everything's overdetermined.
LEORA
They say that soon we'll realize everything about us is encoded in the brain and it'll look like there's no free will at all.
SAM
But even then, it will be at the level of the individual, the result of millions of unique factors. What did that guy say at that panel you dragged me to? "Whenever a Jew makes a statement about Jews, what he really means is 'my family.'"
LEORA
All I'm saying is, if this movie didn't have a specific agenda—

SAM
You mean if it had your Jewish supremacist agenda.

LEORA
Fuck you. I mean, if its agenda wasn't just "antisemitism is bad Jews are just like everyone else," then he would probably run into some situations, with other Jews particularly, that would make him seem like a problematic test case.
SAM
There's that Jewish character.
LEORA
Right, sidekick Dave. I didn't buy Dave.
Photo of John Garfield, projected.
SAM
The actor who played him was Jewish. Born in the Lower East Side, in the Yiddish Theater District. He was blacklisted during McCarthy!
LEORA
I can just imagine the direction: Hey Jew, do your best American, will ya?
SAM
Because that's how they had to direct him, or how they thought they did?
LEORA
I don't know, both?
SAM
He's not supposed to be your kind of Jew. He's supposed to be mine. A person with Jewish heritage. Assimilated. Like me. Half Irish, half Jewish.
LEORA
That's like saying a person is half Black, half left-handed. They aren't the same things.
SAM
They aren't the same things to you. To me they are.
LEORA
In other words, meaningless.
SAM
I'm just saying, there's two ways of being Jewish in America: my way and your way. The movie was about my way.

LEORA
(spitefully)
No, I keep telling you, there is no "your way." You're not Jewish.

SAM
I am.

LEORA
Jewish in name only. You have nothing to pass down but the word itself.
SAM
I'm not talking about some hypothetical future, kids. I'm talking about right now. I'm Jewish right now.
LEORA
You've never participated in Jewish communal life. You're off the map.
Sam shakes his head disapprovingly.
LEORA
Look, you think I'm trying to make a decision for you, but you've already made it for yourself. You can't write the culture of Judaism from outside, from another culture. That's just not how it works.
SAM
Fine. That doesn't change my point. That the guy in the movie is like me. An American.
LEORA
And what am I? This is exactly my problem with the movie! What if the Jews are somehow different? Then what? Then do they deserve it?
(Beat.)
SAM
OK, maybe you're right that if the movie was made now it would have a different focus. Or maybe we're having an argument about a movie that just wouldn't have been made now, period.
LEORA
Because there's nothing to say about Jews in America…
SAM
Maybe not. If structural antisemitism is the one thing that definitively binds us—Jews like me and Jews like you…
LEORA
Then we're nothing but a reflection, a hologram. And if you remove the light source…
SAM
We disappear.
LEORA
That isn't true.
SAM
I'm not sure Jews know who they are without it.
LEORA
I know what we are.
Sam gestures, "out with it!" Leora blinks, looks around, looks at her own body. She is sapped and bewildered by how difficult it is to express something obvious, elemental. She may slap the mattress in frustration.
LEORA
It's me. What I am.
SAM
I know you think that, but you're different—
LEORA
(raising her voice, beginning to cry)
I'm not different! Why can't you see me as a Jew? What is threatening about the idea of me being like other Jews?
SAM
So now we're at the tears portion of the argument…
He's watching her cry as if they're adrift on different ice floes.
SAM
I'm sorry, baby. I'm sorry I don't see your big beautiful Jewish soul.
LEORA
No, you don't see it. That's the whole problem.
SAM
You know, I thought we were gonna have sex, but why do that when we can argue about Jew stuff…
He reaches out to her, she rejects his touch. She rolls over to go to bed.
LEORA
I hate you. You're constantly trying to negate me.
SAM
Who's negating who? You compared my Irish heritage to being left-handed.
LEORA
I meant in terms of what it means to you.
SAM
I'm sorry you didn't get a big Jew like you wanted.
LEORA
Is it wrong to have imagined myself with a Jew?
SAM
You are with a Jew. Just not the kind you can "sense."
LEORA
It's a really nice feeling, that feeling. When you meet a Jew, and you know them instantly, and you're instantly known.
SAM
I'm not trying to take that feeling from you, baby.
LEORA
You couldn't if you tried.
He reaches out again. She shrugs him off.
SAM
(sighs)
Good night.
He turns off the lamp beside the bed. The stage is not completely dark, you can make out their silhouettes, the whites of their eyes. They are quiet but not sleeping. They shift in bed, aware of one another's small movements. They want to be close, but there's no way of getting there from here. Perhaps Leora steals a glance over at Sam. This goes on for a long minute or two until the remaining light fades into black.
End.