Holding onto Nothing to See How Long Nothing Lasts, Installation: Elana Katz, 2020. Video (4:18mins): Elana Katz in cooperation with Dario Srbic, 2020
This work takes place in the House for the End of the World. The space is in a transitory state; an unrenovated 3 room flat in Berlin, Kreuzberg. Formerly a private apartment, its current use as an art space is temporary, and its future thereafter remains to be seen.
—
An installation in House for the End of the World is situated in what is believed to have once been a bedroom. A wooden platform base that references a bed, a pillow made of an undefined white powder, and a fan above that subtly, nearly imperceptibly, blows the powder away. In the corresponding video, the artist is creating her pillow to perfection, redefining circumstances of "comfort," allowing the pillow to blow away at will, and, likewise, to transfer onto her skin and the space surrounding. A continued sweeping, scraping, resting, building the surface.  
This action is captured by Dario Srbic in a series of "live" photographs. The photographs are then assembled — unedited — resulting in this video. The relationship between Katz as the subject and the never-seen camera operator is markedly undefined. The fragmented interaction creates an uncertainty of the dynamics of power, intimacy, and control that are active in the room. Holding onto Nothing to See How Long Nothing Lasts, in both its parts, examines symbols of home, comfort, and attachment — all in relation to the dysfunctional.
—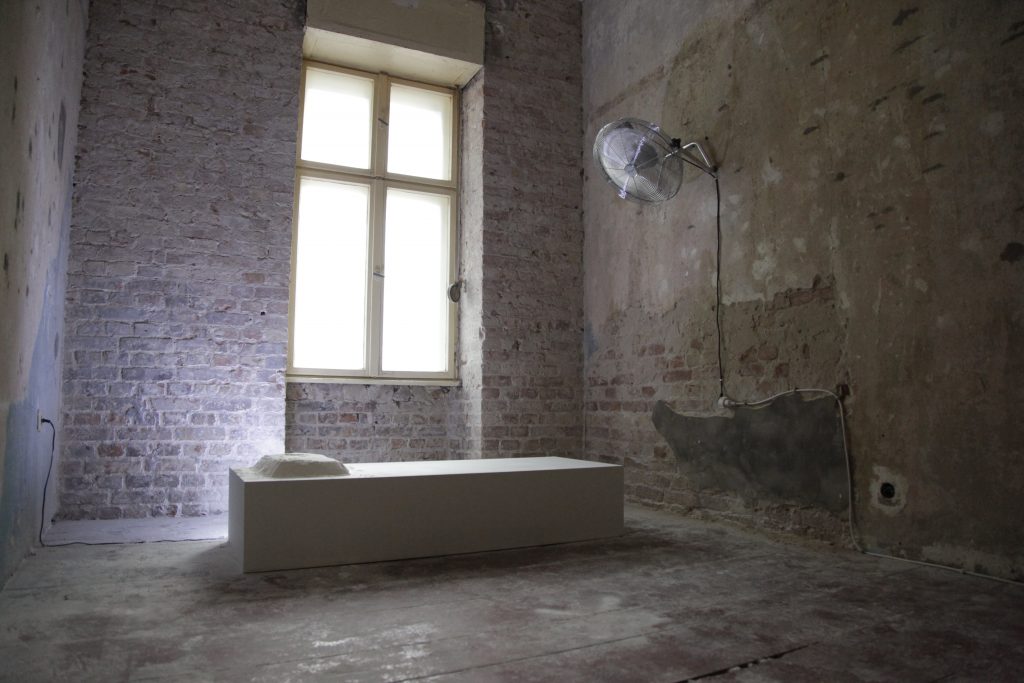 [Image description: A photograph of the site-specific installation in an unrenovated room with a tall window in the background, a metal wire fan and exposed cords attached to the right wall, and a black cord plugged into an outlet on the lower part of the left wall. Light shines through the closed window onto a white rectangular wooden platform on the floor that references a bed. A pillow made of an undefined white powder is at the head of the bed. The fan is positioned to subtly blow the powder away.]
House for the End of the World [HEW] is a contemporary art project space by Elana Katz, realized in cooperation with Gallery KWADRAT. HEW's activities are reactionary, creative, and critical experimentation, including site-specific installations, actions, and discourse — both in the context of public events and the intimacy of studio work. Founded at Falckensteinstraße 24 in Berlin Kreuzberg, HEW as a conceptual platform operates in a transitory manner. This House will thus regularly occupy different spaces, working site-specifically at each location. Launched in March 2020 at the beginning of Berlin's first COVID-19 lock-down, HEW functions, in the context of the current pandemic, as a dystopian sanctuary created by artists in surreal and uncertain times. More info here and Instagram.