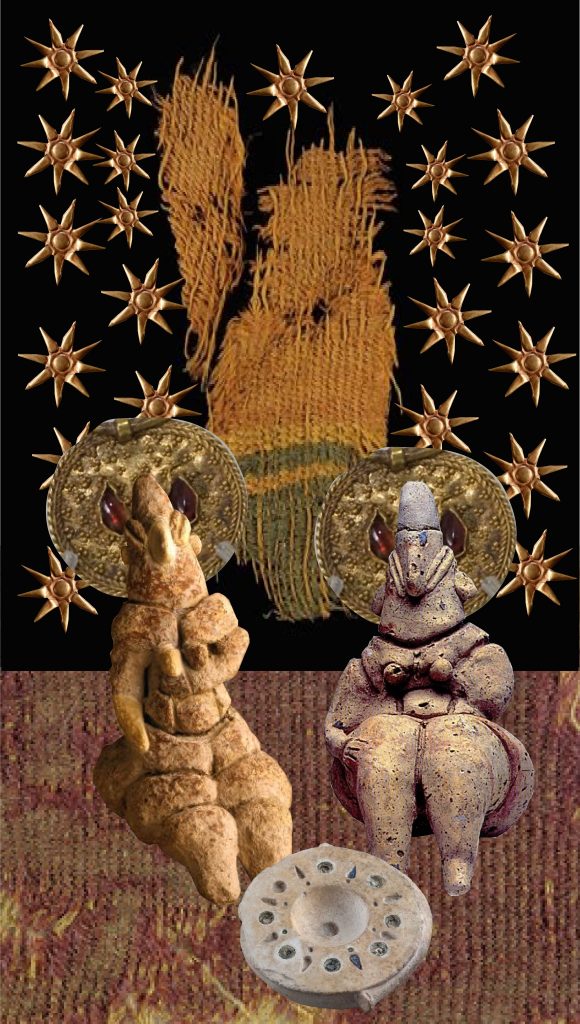 In the Beginnings discusses ambiguous periods of time before monotheistic/Temple Judaism developed. I imagined a pair of god statues as same-gender lovers. There was a period of time that ended more recently than Tanakhic literature will admit, during which the average Canaanite/Israelite was polytheistic. The Temple during this period represented, to me, the consolidation of all of the world's powerful forces and energies from multiple representations into one thing that could not, and cannot, be fully experienced or understood. I use this precedent to explore a historical human reality of migration, cultural exchange, and religious trajectories mentioned in the Tanakh, but of god-figur(in)es unnamed. As part of humanity's great mosaic, we are one of many 'beginnings' and one of many peoples who are all people. The Temple was helpful for lessening feelings of fear or ambiguity regarding atonement and societal strife. Without it, we must do everything in our power to make the world a better place, becoming our own expiation. Part of that means accepting our global diversity and making peace with what we can't change; as well as wrestling with any rules in our religion that could prevent us from treating a person with dignity or minimizing harm in the world.
Read more about the components of In the Beginnings here:

Textile
Cosmetic palette
Al-Uzza earrings
Seated woman
Goddess figurine
Goddess figurine
Ancient fabric
—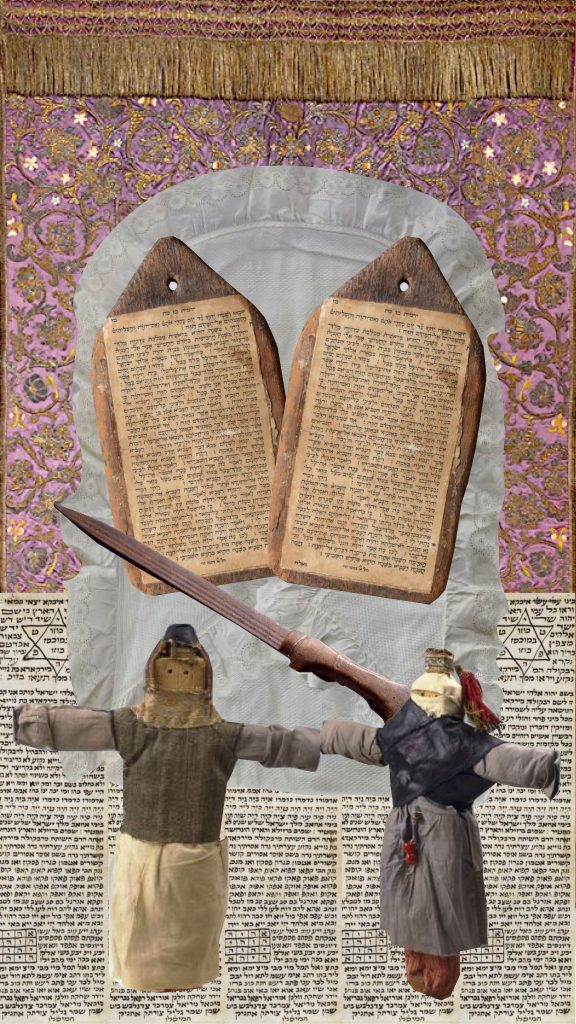 The Divine Home is inspired by more current Jewish material cultures. Many Jews stayed around the Mediterranean basin and developed unique material traditions in conversation with one another's communities. Women, whose domain was the home whether or not they also worked, were the producers of much of this culture. This collage centers women as stewards of the 'shekhinah' or holiness inherent in dwelling and creating space to nourish oneself and others. Women's religiosity, including the amuletic cultures that they use(d) to protect their children, cannot be underestimated when examining the flourishing and survival of Jewish people. We all have the opportunity to create our own, gender-expansive, and ageless homes. I especially loved that some of these items are meant to be used temporarily, such as the Purim dolls from Sana'a, Yemen, which have a childlike appearance themselves.
Read more about the components of The Divine Home here:
Purim dolls
Amulet dagger
Cushion for the circumcision ceremony
Torah Ark Curtain
Amulet
Board for learning the alphabet and the Bible
—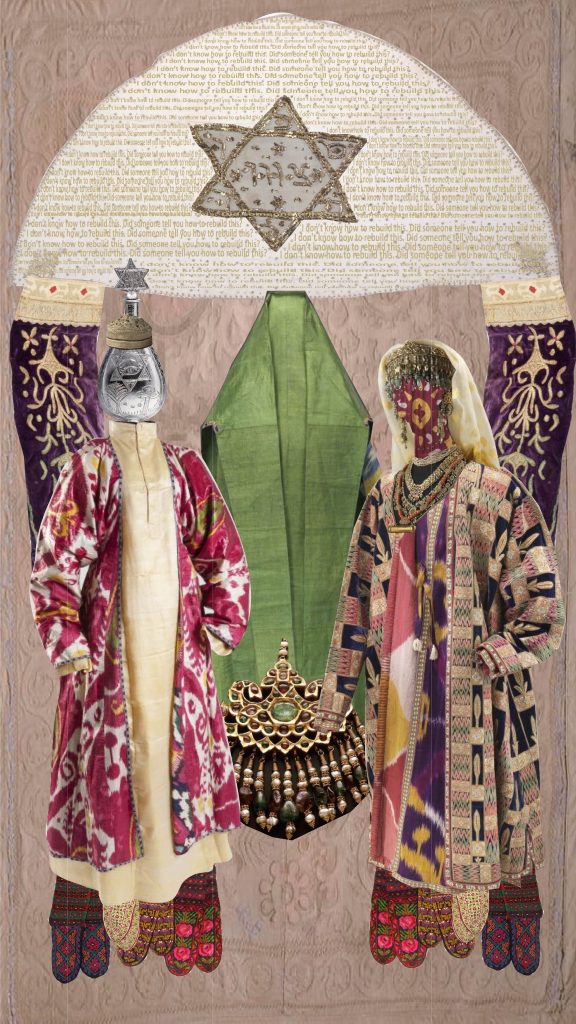 The Future is a queer exploration of multiple diasporic Jewish pasts and futures. In so-called New York City, leading Sefaradi-Mizrahi activists for LGBTQ+ inclusion and rights find their roots in Bukharian and Syrian Jewish communities. I am thinking of these leaders while creating this piece. It speaks to Jewish dispersal routes and adaptable spirit. I am imagining the Jews of Mashhad, Iran, in particular. Many Jews from Central Asia, including Uzbekistan and Afghanistan, trace their ancestry to Mashhad, which was also home to a community of Jews living in secret while outwardly practicing Islam, in a proverbial religious 'closet'. Jewish communities around the world are currently reckoning with growing numbers of LGBTQ+, converting, and politically left-leaning individuals existing in their communities. The women's mourning cloak included in this piece, as the playful mix-and-match of gendered wear and symbology between the two bride(s)/grooms, all reference the anxieties of a changing world and the adaptable nature of traditions and peoples, as well as LGBTQ+ narratives of leaving their families to find our own futures.
Read more about the components of The Future here:
Kohl container
Prayer shawl bag
Marriage veil
Mourning cloak (faranji) and face veil (chashm-band)
Concealed hair covering (kallapüshak)
Men's skullcap
Women's scarves
Parkhane forehead ornament
Groom's attire
The Jewelry of Jewish Women in Bukhara
Videos on various clothing and Bukharian Jewish dress